I practice and am certified in many different energy healing methods and use it in combination depending on the person.  All of these methods can be used either in a normal in-person session or in remote/distant healing session.  Here are a few of the methods I use:
Reiki – An old Japanese energetic healing method which also entails hands-on work on different parts of the body.  I am a Reiki Master since over 10 years with the Usui tradition.
Quantum Touch:   A method developed by Richard Gordon using the hands on the different parts of the body to balance structural as well as emotional, problems.
Quick Pulse :   This is a quick and yet powerful method,  developed by Jo Dunning, is used to resolve problems, situations, even limiting beliefs and to attract the support we need to release them.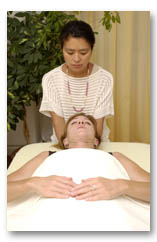 Ancestral Clearing  – This is a most powerful method to clear unresolved burdens from our past, our family and our lineage affecting us so that we can live the life we are meant to live.  This was developed by John Newton and has helped people with all different physical, emotional challenges transform.  See more in the tab Ancestral Clearing.
Reconnective Healing/Reconnection  – A new way of treating without touching the body and reconnecting and rebalancing our bodies-systems-emotions-soul; developed by Eric Pearle.  See more in the tab Reconnective Healing/Reconnection.
Eden Energy Medicine ( Eden Method)  An all-encompassing method of diagnosing & treating people energetically.  People are treated using gentle hands-on work and also prescribing an individual energy routine with short and simple exercises to bring their energies in balance.   (currently in the process of finishing my certification)